A Helping Hand from Hayden Homes, again
By: Jerry Rhoads ~ 1/18/2019
In early December, we received a call from one of our longtime supporters. Gina Donangelo, Hayden Homes Washington Marketing Manager, called to say that they had selected us again for a donation from their Charitable Foundation, First Story. Hayden Homes builds homes throughout the Pacific Northwest and have many agencies they could choose to gift.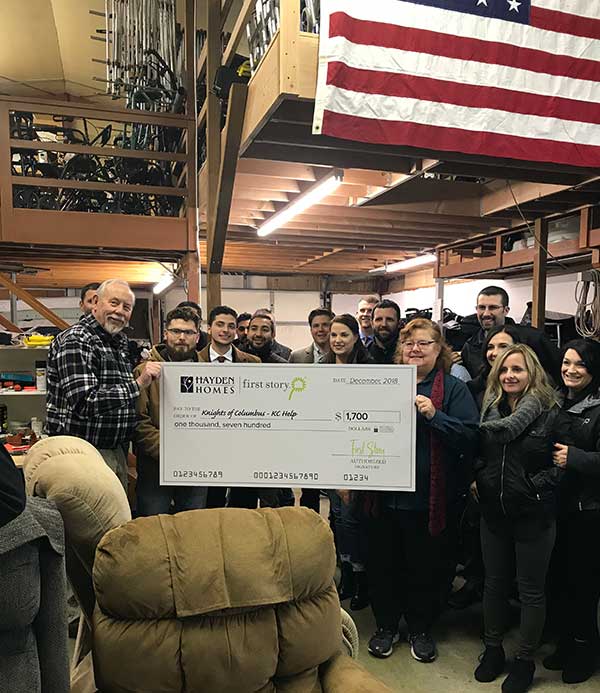 We were first gifted by Hayden Homes before Christmas 2016. They wanted to do a team-building event by building a dozen wheelchairs that they wanted to go to veterans. They had called a number of organizations, but none had said they could directly get the wheelchairs to Vets. Wow, a dozen new wheelchairs for Vets. That was great news. It would not be a problem for us. We simply needed to ask the client that needed a wheelchair was he or she a Veteran. We held a party at the Knights Richand hall and Hayden Homes donated the wheelchairs to KC Help. We even had a Vet attend the party so the first of the Hayden Homes chairs was immediately placed.
Before six months passed, they were all out in service. Why it took that long? How can we say this nicely? Not all Vets are the same size and would fit in the 18-inch wheelchairs. The larger Vets still got a wheelchair, but it was gently used. When the Vet no longer needed it, they returned it and we placed it with another Vet. Since our CEO was an 8-year submarine sailor during the Vietnam period, he expanded the program to include spouses of veterans. We figured that they too had served.
In 2017, Hayden Homes provided a monetary donation. Again, last month they came with another donation of funds to help KC Help operations. They presented their check to us at our Regional Operations Center in Pasco (we call it the ROC). What a great gift it is to KC Help and our community to have such loyal corporate supporters. In the picture we took, they look as happy as we feel.

---