Hats Off to a Special Volunteer
By: Jerry Rhoads ~ 8/8/2019
There are times when we somehow make the right decision even though it doesn't seem like a smart thing to do. Such was the case when a Fellow Knight, Bill Kitchen, ask me to consider a friend of his being part of the office volunteer staff for KC Help. Robyn's profession before her stroke was as a full charge bookkeeper. However, her confidence at returning to her profession was not all that high. But given that our KC Help backlog of data entry of services to our clients was continuing to grow, I talked to the other office staff and volunteers about Robyn coming on board and giving it a try. Of course, they replied. Why would you even hesitate!
At our first meeting, Robyn was concerned about making mistakes in data entry due to the impact of her stroke. So, we worked out a plan that someone would review her work to make sure it was accurate. After the first couple of weeks, that was no longer necessary. Though Robyn's speed at the keyboard had slowed, her accuracy was spot on. After a few months of volunteering, it was time for Robyn to move on and look at potential employment opportunities. Although we missed Robyn's cheery presence with us, we were glad for her finding confidence in her abilities. Robyn sent us card recently and we would like to share that with you all.
So much of what we experience in this service, is helping people recover. It may be from an illness, an accident, or just getting back a bit of freedom and comfort in their lives. They are as much of a gift to us as our service is to them. Hopefully, we will get to experience many more "Robyn's" in our volunteers and clients as we serve. Thank you Robyn for making our lives more enjoyable. It was You that blessed us.

---
Brett Lott Charity House
By: Jerry Rhoads ~ 7/17/2019
Sometime people just do amazing things for us. For KC Help, that occurred when Brett Lott called one day last spring asking if we could come to a meeting. He said he and his wife Sandra had selected us as one of the charities they were going to donate the proceeds of a house they were building. Brett and Sandra had decided to build a home and called it the Charity House. They said it was their way of giving back to a community that had supported them.
Wow! That brought some emotion out of me. Not saying my eyes were wet or anything like that. At the meeting, Brett Lott lined out his plan. Brett builds quality custom and semi-custom homes in our community. His homes have won numerous Parade of Homes awards (https://brettlotthomes.com). We were delighted to see the other Charity selected was Elijah Family Homes that supports families recovering from drugs that have affected their life.
The Lott's then had a ground-breaking ceremony, which included a fabulous BBQ steak lunch by Retter and Company.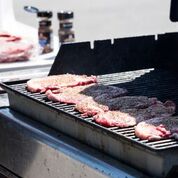 Their presentation included how they had built a home for their son at cost and then had this idea that they could do the same for charities in their community.
Brief comments from the two charities followed. This event was covered by KVEW and broadcast later that evening. What a day in the sun we all had.
The latest on the Charity House construction is the electrical and plumbing rough-in is complete, central air is in, and dry wall is up ready to paint. This is amazing progress considering their regular home building business also needs their attention. Well keep you up to date as progress continues.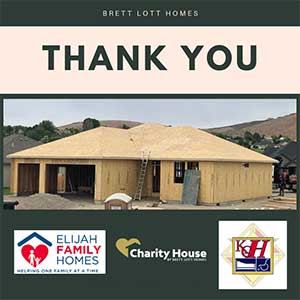 Looking for a great home? Please contact Brett (509) 544-9303